On 21 June 2023, ACCRALAW hosted an Appreciation Dinner at the Grand Ballroom of Shangri-La The Fort, Taguig City. It was the culminating activity of the Firm's year-long celebration of its 50th Anniversary. The event was attended by the Firm's Partners, Of Counsel, and Senior Associates, valued clients, and other distinguished guests.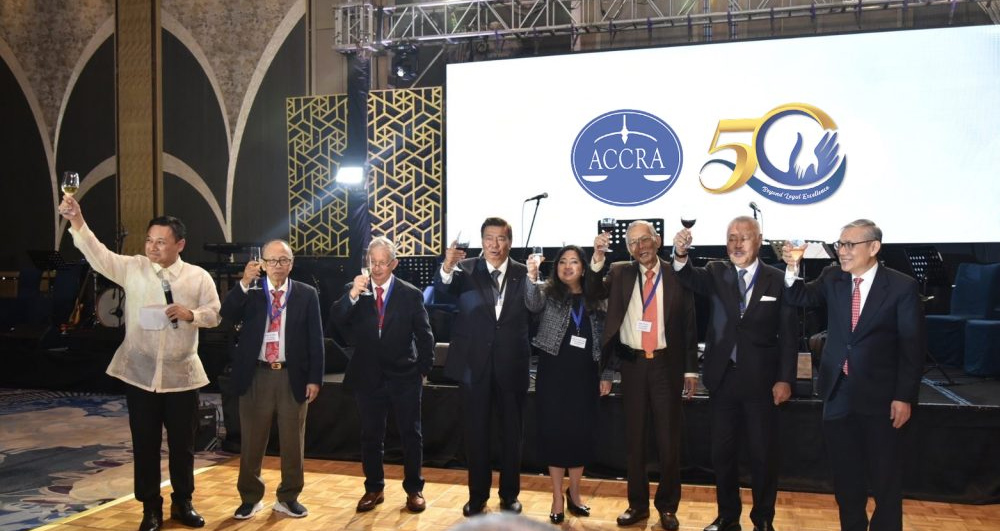 ACCRALAW Managing Partner Patricia Ann T. Prodigalidad thanked the Firm's clients and mentioned that "the delivery of effective, insightful, innovative, and quality legal service to reach (their) objectives" has always been the Firm's primary pursuit.
Former Chief Justice Artemio V. Panganiban also delivered a keynote speech.
Senator Juan Edgardo M. Angara, a former ACCRA lawyer, delivered a toast to ACCRALAW Founding Partners Edgardo J. Angara†, Manuel G. Abello†, Jose C. Concepcion†, Teodoro D. Regala†, and Avelino V. Cruz, and to those who served as the Firm's Managing Partners which include Franklin M. Drilon (1986), Rogelio A. Vinluan (1988-1992), Victor P. Lazatin (1993-2002), Eusebio V. Tan (2003-2014), Emerico O. de Guzman (2014-2021), and Patricia-Ann T. Prodigalidad (2022-present).