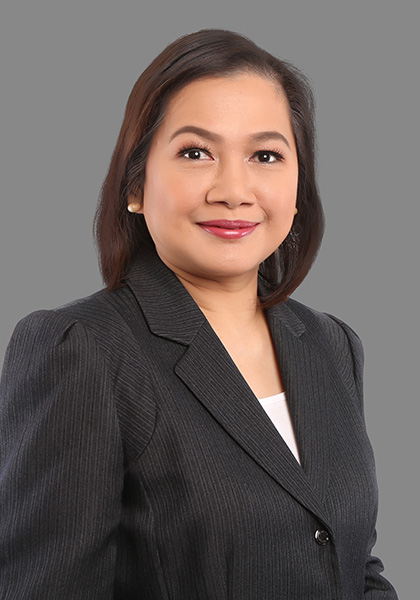 Ruby Rose "Ruby" J. Yusi is a Senior Partner of ACCRALAW. She is highly regarded as a leading tax practitioner in the Philippines. She has a wealth of experience and success in representing clients before tax courts, local taxing authorities, and relevant administrative agencies such as the Bureau of Internal Revenue and the Bureau of Local Government Finance.
Ruby is known for her practical and effective legal advice to her clients. She is consistently ranked as a leading lawyer in the field of Taxation by various legal publications such as The Legal 500 Asia-Pacific, Chambers Global, and the Global Tax Directory, among others.
Ruby also practices corporate law. Currently, she is representing a technology company in bidding for projects of, and negotiating contracts with, the Commission on Elections in connection with the 2022 National and Local Elections. She serves as Corporate Secretary and director for various multinational corporations and non-profit organizations.
Ruby served as head of ACCRALAW's Tax Department for fourteen years and then as head of the Firm's Corporate & Special Projects Department in 2017.
In her spare time, Ruby loves to tidy and organize (KonMari style) and listen to podcasts.
Ruby is married to Paulino Yusi, a lawyer-businessman from Angeles City. They have three children, all of whom are in college.