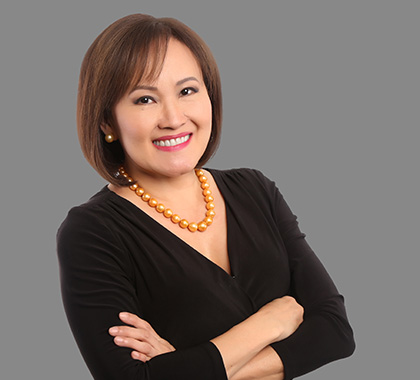 Rowena Garcia Flores is a Senior Partner of ACCRALAW. She belongs to the Litigation and Dispute Resolution Department. She started her law practice in ACCRALAW soon after obtaining her Bachelor of Laws from San Beda College. She excelled in academics and it was not a surprise that she ranked sixth in the 1989 Bar Examinations. 
She has a vast and varied experience in litigation having handled civil, criminal, and commercial cases. She has specialized in criminal defense. Among her notable cases is the highly publicized murder case filed against US Marine Lance Cpl. Joseph Scott Pemberton. The case ignited public anger and invigorated a debate over the U.S. military presence in the country. Numerous protests were conducted by left-wing activists and gay, lesbian and transgender groups who labeled the killing a hate crime. 
In defending Mr. Pemberton, Ms. Flores had to carefully review the forensic evidence gathered by the law enforcement agencies. Mr. Pemberton was charged with murder but found guilty of the lesser offense of homicide. He was ordered released by the court after fully serving his sentence, applying the Good Conduct Time Allowance (GCTA) law. Questions on the application of the GCTA law to him was rendered moot when he was granted an absolute pardon last year. 
Through the years, Ms. Flores has shown that she possesses grace under pressure. She can handle the toughest of opponents even if in the spotlight.  
Ms. Flores is a soprano and continues to sing in different fora, including the Philippine delegation's presentations at the Asean Law Association conferences. She is also a sharpshooter, an alumna of the UP Rifle Pistol Team. 
Ms. Flores was one of the seven finalists for the 2020 ALB Woman Lawyer of the Year.