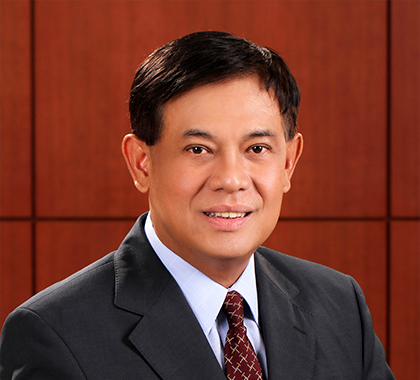 Francisco "Francis" Ed. Lim is highly regarded and well-respected in the legal and business circles. For one, he is an institution in the academia having taught law subjects in different universities since 1986, including the Ateneo de Manila University School of Law and the San Beda Graduate School of Law. For another, he served as President of the Philippine Stock Exchange (PSE) from 2004 to 2010 and was constrained to go on leave from the Firm.
Francis has a number of advocacies. He is currently the President of the Shareholders' Association of the Philippines (SharePHIL), Vice-President of the Management Association of the Philippines (MAP), and a trustee of the Financial Executives Institute of the Philippines (FINEX), CIBI Foundation and Judicial Reform Initiatives, Inc. (JRI).
It is not easy to keep track of Francis' schedule. His schedule is always packed with back-to-back meetings coupled with speaking engagements. When requested by clients, he even attends hearings to argue for his clients' causes. He is spearheading teams in very complex litigation such as the Dengvaxia cases and the internationally famous cases filed by the government against the Rappler group of companies.
Despite his busy schedule, he finds time to relax and unwind by playing golf or even the more energetic game of badminton.
Other than being a lawyer, who is versatile in litigation and corporate matters, he is a thinker and reformist. He devotes significant time in initiatives for the economic development of the country such as crafting significant laws and implementing rules and regulations. To name a few, he was actively involved in the drafting of the Philippine Competition Act (PCA), Financial Rehabilitation and Insolvency Act (FRIA), Real Estate Investment Trust Act (REIT Act), Credit Information System Act (CISA), Personal Equity and Retirement Account Act (PERAA), Financial Rehabilitation Rules of Procedure, Financial Suspension and Liquidation Rules of Procedure, Rules of Procedure on Intra-Corporate Controversies, Rules on Notarial Practice, and the Rules on Electronic Evidence. Presently, he is a member of the Rules Committee of the Supreme Court that is currently working on the revision of the Rules of Civil Procedure and the Rules of Evidence.
Unknown to many, Francis' formative years were spent at the San Jacinto Seminary and UST Central Seminary. No wonder, this led him to pursue a degree in Philosophy at the University of Santo Tomas, and later a law degree at the Ateneo de Manila University. Whether it is striving in a rigid environment or being a God-fearing advocate, Francis is a model lawyer. In fact, he is consistently ranked as a leading practitioner in the fields of dispute resolution, capital markets, corporate law, insolvency, mergers and acquisition, and banking and finance.
There is no doubt that Francis is one of the Firm's gems.