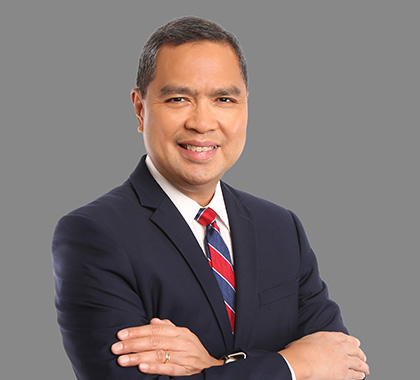 Alex Ferdinand "Ferdi" S. Fider is a Senior Partner and heads the Firm's Intellectual Property Department.
He is well-regarded in the legal community and consistently recognized as among the top 100 lawyers in the Philippines by Asia Business Law Journal.
In 1990, Ferdi completed his Master of Laws degree from Queen Mary and Westfield College, University of London with a focus on intellectual property. This opened his eyes to a realization that intellectual property is among the "finer manifestation of human achievements". He eventually postulated intellectual property as humankind's original solitude – the only living creature who has the faculty to freely manifest life achievements.
Ferdi tries to pay it forward by teaching in the University of the Philippines and the De La Salle University. He has been described as "very learned" by his student and "a diligent colleague" by his fellow professor.
His scholarly works include the Philippine chapters of several authoritative textbooks on intellectual property through the Max Planck Series on Asian Intellectual Property Law; and the Applied Research Center for Intellectual Assets and the Law in Asia (ARCIALA) of the Singapore Management University.
He obtained his Bachelor of Laws from the University of the Philippines in 1986 and Master of Laws from Queen Mary and Westfield College, University of London in 1990.