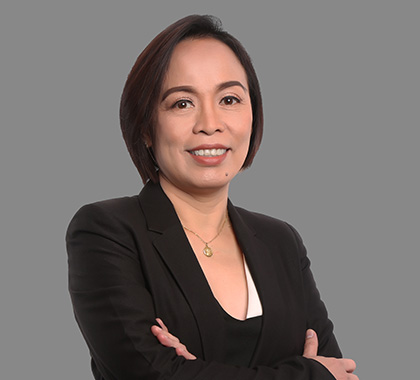 Maria Iolanda "Io" B. Abella
Maria Iolanda "Io" B. Abella is a Senior Partner of ACCRALAW. She specializes in corporate law and litigation. Among her noteworthy deals are the recent sale by GMR Airports of India of a 49% stake to Aeroports de Paris SA, and ensuring the compliance of GMR's local subsidiaries with Philippine laws and regulations. She has likewise advised on the recent consolidation of the semi-refined carrageenan operations of DuPont Nutrition & Biosciences and the consequent orderly closure of the DuPont production plant in the Philippines. Io also handles complex litigation involving energy disputes, land disputes, electronic fraud, and medical malpractice cases.
Io has held key leadership positions in the Cebu City Chapter of the Integrated Bar of the Philippines and the Cebu City Chapter of the Federacion Internacional de Abogadas. She is consistently cited by various publications as a leading lawyer in Cebu, and was even described by her clients as "pleasant and keen to reach a practical commercial conclusion."
She obtained her Bachelor of Science in Biology and Bachelor of Laws degrees from the University of San Carlos, graduating magna cum laude and cum laude, respectively. She thereafter obtained her Master of Laws degree from the University of Sydney, Australia, in 2000. Io's interests include sports and fitness. She plays golf, practices yoga, and plays the piano and violin.