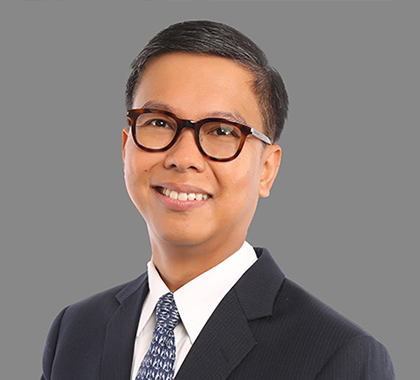 Eric R. Recalde is the Head of the Firm's Tax Department. He is a lawyer, accountant, and law professor.
Eric has stellar academic credentials. He was a consistent honor student and board and bar exam topnotcher. He is a product of San Beda University where he obtained his Bachelor of Science in Accountancy, Bachelor of Laws and Master of Laws. He also has another degree, the Master of Corporate Law, from University of Cambridge in the United Kingdom. He ranked 11th in the September 1996 CPA Licensure Examinations and 3rd in the 2002 Philippine Bar Examination.  
He is known for his novel alternative theories, one of which is on the Court of Tax Appeals' certiorari jurisdiction, which he discussed in his 2009 book, A Treaties on Tax Principles and Remedies. The Supreme Court later had the same theory as explained in City of Manila v. Cuerdo (G.R. No. 175273, 4 February 2014). He also formulated the arguments of the petitioning banks in the PEACe bonds Case that the Supreme Court eventually upheld in Banco de Oro, et al., v. RCBC, et al. (G.R. No. 198756, 16 August 2016).
Eric is known to deliver cost-efficient and practical solutions for the Firm's clients.
In between his family and work life and time spent in the driving range or the golf course, Eric has reserved energy to pursue his writing. He has authored books on taxation, competition law, corporate laws, credit, secured transactions and insolvency laws.
She is married to Tanya Recalde and they lovingly raise three energetic sons, Ethan, Enzo and Eli.