The piece is Castrillo's avant-garde interpretation of the classical story of King Solomon as found in the Hebrew Bible.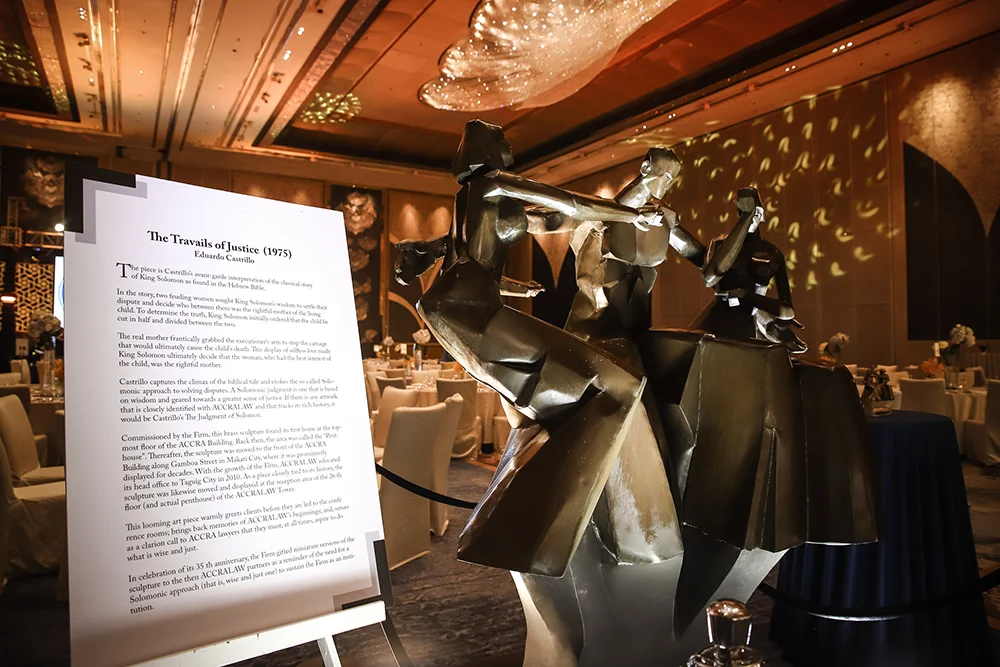 In the story, two feuding women sought King Solomon's wisdom to settle their dispute and decide who between them was the rightful mother of the living child. To determine the truth, King Solomon initially ordered that the child be cut in half and divided between the two.
The real mother frantically grabbed the executioner's arm to stop the carnage that would ultimately cause the child's death. This display of selfless love made King Solomon ultimately decide that the woman, who had the best interest of the child, was the rightful mother.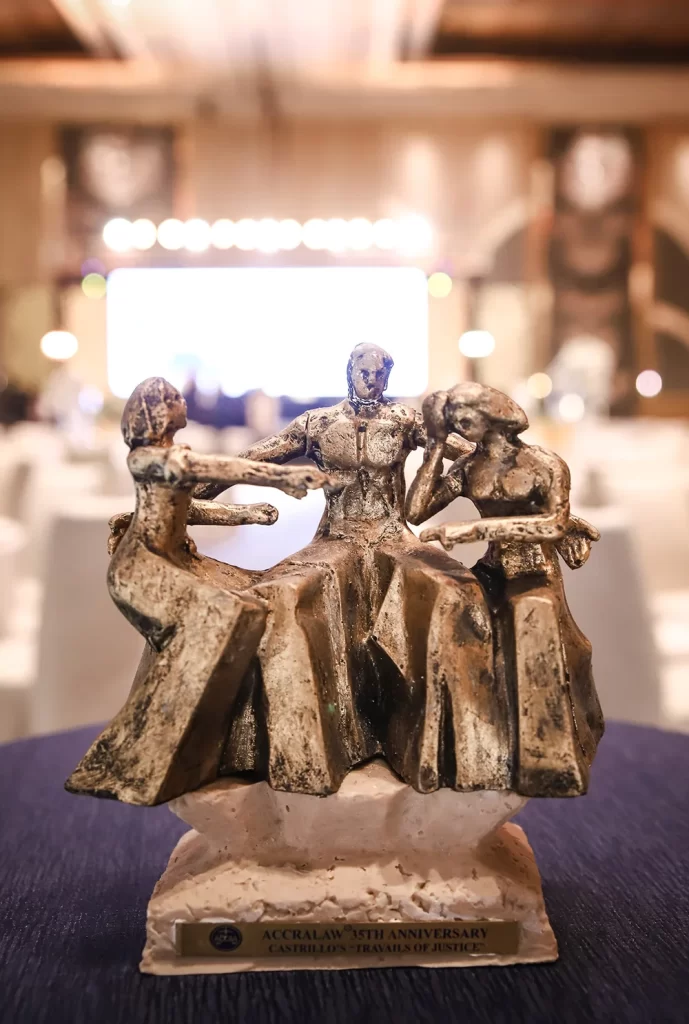 Castrillo captures the climax of the biblical tale and evokes the so-called Solomonic approach to solving disputes. A Solomonic judgment is one that is based on wisdom and geared towards a greater sense of justice. If there is any artwork that is closely identified with ACCRALAW and that tracks its rich history, it would be Castrillo's The Travails of Justice.
Commissioned by the Firm, this brass sculpture found its first home at the top-most floor of the ACCRA Building. Back then, the area was called the "Penthouse." Thereafter, the sculpture was moved to the front of the ACCRA Building along Gamboa Street in Makati City, where it was prominently displayed for decades. With the growth of the Firm, ACCRALAW relocated its head office to Taguig City in 2010. As a piece closely tied to its history, the sculpture was likewise moved and displayed at the reception area of the 26th floor (and actual penthouse) of the ACCRALAW Tower.
This looming art piece warmly greets clients before they are led to the conference rooms; brings back memories of ACCRALAW's beginnings; and, serves as a clarion call to ACCRA lawyers that they must, at all times, aspire to do what is wise and just.
In celebration of its 35th anniversary, the Firm gifted miniature versions of the sculpture to the then ACCRALAW partners as a reminder of the need for a Solomonic approach (that is, wise and just one) to sustain the Firm as an institution.
The Travails of Justice was displayed at ACCRALAW's Appreciation Dinner held on 21 June 2023 at the Grand Ballroom, Shangri-La The Fort, Bonifacio Global City, Taguig City.