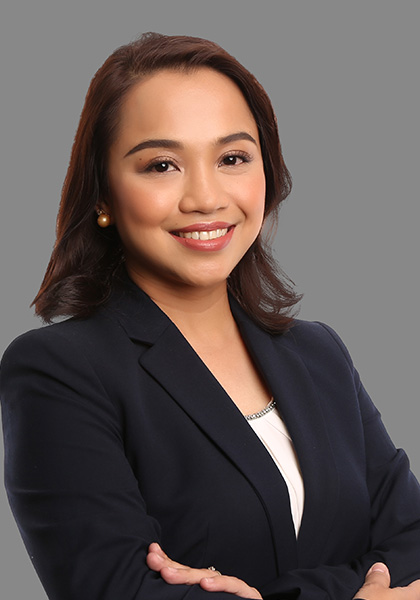 ACCRALAW recently announced the admission to the partnership of Jessa G. Wong-Cantano.
Ms. Wong-Cantano obtained her Bachelor of Arts in Political Science in 2003 from Ateneo De Davao University. She obtained her Bachelor of Laws from the same university in 2008. She graduated 4th in her class. She was admitted to the Philippine Bar in 2009.
She started her law career with the Department of Justice (DOJ) as Attorney II until she was promoted as Associate Prosecution Attorney II. She prosecuted criminal cases while assigned to the Office of the Provincial Prosecutor (Malolos, Bulacan), Office of the City Prosecutor (Meycauayan City, Bulacan), and Office of the City Prosecutor (Manila).
She joined the Firm as an Associate last 1 March 2010 and was promoted to Senior Associate in 1 January 2015. In her over 10 years with the Firm, she has specialized in litigation, alternative dispute resolution, arbitration, appellate practice, criminal law, commercial law, civil law, and administrative law.
She is also a law professor in Ateneo de Davao University College of Law and has been teaching since 2016. She has taught Persons and Family Relations, Legal Research, Statutory Construction, and Obligations and Contracts. At present, she teaches Conflict of Laws and Transportation Laws.
She is a role model to the younger lawyers, particularly, those in the Davao Branch. Ms. Wong-Cantano has been described by her peers as "always cool under pressure". Through her years in the Firm, she has shown that she is not only a hard worker but also a reliable leader with sound judgment.