Senior Partners Patricia-Ann T. Prodigalidad and Leland R. Villadolid Jr. have been elected by the Firm's partners as Managing Partner and Co-Managing Partner, respectively.  They are tasked to lead the ACCRALAW on its 50th year of founding.
Ms. Prodigalidad is among the country's leading litigators and arbitration practitioners. She specializes in commercial litigation, white collar crime, and international commercial and construction arbitration, among others. She has been recognized by different international publications, such as Asia Law Profiles, Chambers Asia-Pacific, The Legal 500, and Asia Business Law Journal, in the field of dispute resolution. In recognition of her contributions to the field of law, in 2019, she was named among the The Outstanding Women in the Nation's Service (TOWNS) awardees.
Prior to being elected Managing Partner, Ms. Prodigalidad held the position of Co-Managing Partner.
Ms. Prodigalidad is the first female Managing Partner of ACCRALAW. Her election to this position is a testament to the Firm's commitment to gender equality and diversity.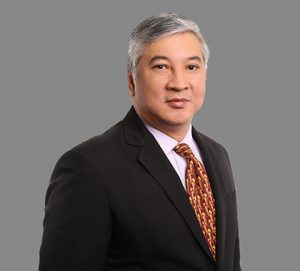 Mr. Villadolid is a dispute resolution practitioner. He is a pioneer in the field of law and information technology. Adept in technology and innovation, he handles cases that require technical expertise, such as cybercrimes and cyber security. He counts among his clients the leading telecommunications entities in the country. He has also been cited by international publications, such as The Legal 500, for his dispute resolution skills.
Mr. Villadolid previously headed the Litigation and Dispute Resolution Department of the Firm.
This year – 2022 – ACCRALAW celebrates its 50th anniversary. A firm with a rich history and legacy in the legal field, much is to be expected from Ms. Prodigalidad and Mr. Villadolid. Undoubtedly, they have the capabilities to continue and grow ACCRALAW as the Firm continues to provide top-notch legal services to its clients.