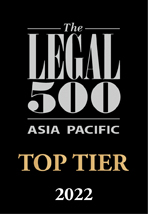 ACCRALAW continues to be ranked as a Top-Tier Firm by The Legal 500 Asia-Pacific for 2022. ACCRALAW was recognized as a Tier 1 Firm in eight (8) practice areas: Banking and Finance, Capital Markets, Corporate and M&A, Dispute Resolution, Immigration, Labor and Employment, Real Estate and Construction, and Tax.
ACCRALAW was also recommended in the practice areas of Intellectual Property and Projects and Energy.
The Legal 500 included Senior Legal Counsel Victor P. Lazatin and Of Counsel Emerico O. de Guzman in the exclusive list of Hall of Famers in the fields of Dispute Resolution and Labor and Employment, respectively.
The following lawyers were ranked as "Leading Individuals" in their respective practice areas:
Francisco Ed. Lim (Capital Markets);
Alex Ferdinand S. Fider (Intellectual Property);
Judy Hao (Capital Markets; Corporate and M&A);
Andre B. Navato (Banking and Finance); and
Joy Anne C. Leong-Pambid (Labor and Employment)
The Legal 500 also recognized the following lawyers as "Next Generation Partners", or "younger partners who make a material difference to the practice":
Arnold M. Corporal (Dispute Resolution);
Maria Khristina Z. Garcia-Angel (Immigration); and
Everlene O. Lee (Capital Markets; Corporate and M&A)
The following lawyers were ranked as "Rising Stars", or "associates who appear frequently on significant matters and are widely cited by peers and/or clients":
Franchesca Abigail C. Gesmundo (Labor and Employment); and
Napoleon L. Gonzales III (Immigration)
The following ACCRALAW lawyers were recommended by the publication in its Asia Pacific 2022 Editorial:
Banking and Finance
Capital Markets
Francisco Ed. Lim
Judy Hao
Everlene O. Lee
Corporate and M&A
Judy Hao
Andre B. Navato
Everlene O. Lee
Dispute Resolution
Victor P. Lazatin
Leland R. Villadolid Jr.
Patricia-Ann T. Prodigalidad
Oliver L. Pantaleon
Jose Martin R. Tensuan
Arnold M. Corporal
Christopher Louie D. Ocampo
Joseph Anthony I. Malaya
Immigration
Maria Khristina Z. Garcia-Angel
Napoleon L. Gonzales III
Intellectual Property
Alex Ferdinand S. Fider
Victor N. de Leon
Richmond K. Lee
Labor and Employment
Emerico O. de Guzman
Clarence C. Valdecantos
Neptali B. Salvanera
Joy Anne C. Leong-Pambid
Franchesca Abigail C. Gesmundo
Tax
Ruby Rose J. Yusi
Oliver L. Pantaleon
Eric R. Recalde
Jacqueline Ann C. Alegre-Tan
The Legal 500 is an international legal publication and is considered as the "world's largest legal referral guide."