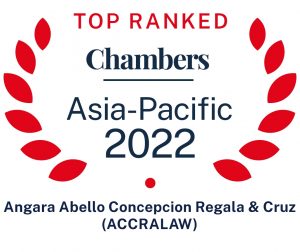 ACCRALAW was recognized as a leading law firm in various practice areas by Chambers Asia-Pacific for 2022.
The Firm was ranked as a Band 1 firm in the practice areas of Dispute Resolution, Employment, and Intellectual Property, a Band 2 firm for Arbitration and Tax, and a Band 3 Firm for Banking and Finance and Corporate and M&A.
The Firm's Capital Markets practice was also listed under the legal publication's "Spotlight Table".
In addition to the firm's rankings, the following ACCRALAW lawyers were also recognized by Chambers Asia-Pacific:
Victor P. Lazatin (Senior Statespeople, Dispute Resolution)
Francisco Ed. Lim (Spotlight Table, Capital Markets; Band 2, Dispute Resolution)
Aleli Angela G. Quirino (Senior Statespeople, Intellectual Property)
Emerico O. de Guzman (Eminent Practitioner, Employment)
Alex Ferdinand S. Fider (Band 1, Intellectual Property)
Ruby Rose J. Yusi (Band 2, Tax)
Patricia-Ann T. Prodigalidad (Spotlight Table, Arbitration; Band 3, Dispute Resolution)Judy Hao (Band 3, Capital Markets)
Andre B. Navato (Band 3, Capital Markets)
Clarence C. Valdecantos (Band 3, Employment)
Victor N. de Leon (Band 2, Intellectual Property)
Eric R. Recalde (Band 3, Tax)
Erwin Jay V. Filio (Band 3, Employment)
Richmond K. Lee (Band 4, Intellectual Property)
Chambers Asia-Pacific provides the "most in-depth and reliable recommendations on the best law firms and lawyers" in the Asia-Pacific region.