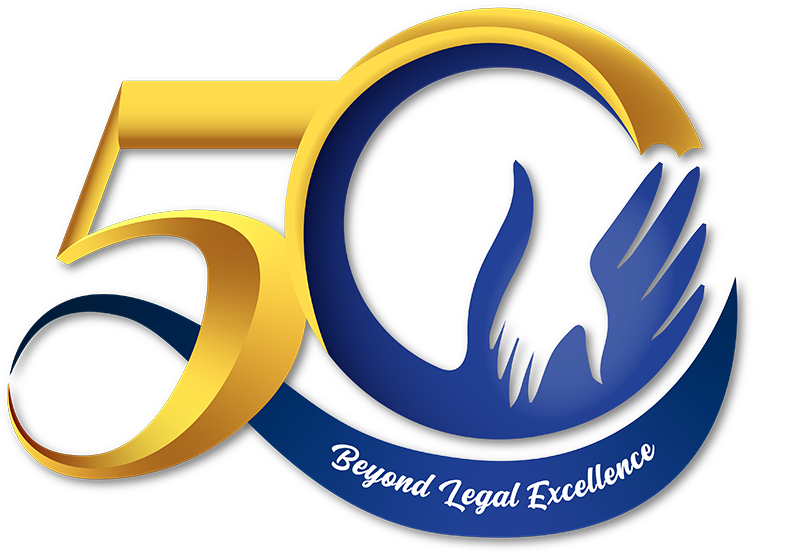 This year, Angara Abello Concepcion Regala & Cruz Law Offices (ACCRALAW), the largest institutional law firm in the country, marks its 50th year of providing excellent legal service.
On its golden anniversary, ACCRALAW aims to go Beyond Legal Excellence. As an expression of its infinite gratitude to God and society, ACCRALAW has recently established a Corporate Social Responsibility Department to implement its expanded and structured pro bono programs that provide equal access to quality legal services to the poor and marginalized. ACCRALAW firmly believes that the legal profession is imbued with public interest and aims to fulfill its role in society by partnering with key non-profit organizations in worthy social endeavors.
To symbolize its years in the legal services industry, ACCRALAW's commemorative 50th Anniversary Logo embodies the Firm's overarching goal for the next 50 years ―to go Beyond Legal Excellence by being the leader in creating a better legal system and an even better society.
The blue color symbolizes ACCRALAW's stability. ACCRALAW was established on the 1st day of May 1972 and, since then, it has grown to be the largest institutional law firm in the country. Through the years, it has expanded its core practice areas, specialized in different fields, and served an ever-widening clientele, domestic and foreign.
The gold color represents ACCRALAW's depth of experience, which has enabled it to significantly contribute to the legal landscape in the Philippines.
The infinity symbol expresses the Firm's continuing commitment to excellence and service.
The cradling hand embodies ACCRALAW's steadfast commitment to go beyond serving its clients through enduring compassion and care for others in society.