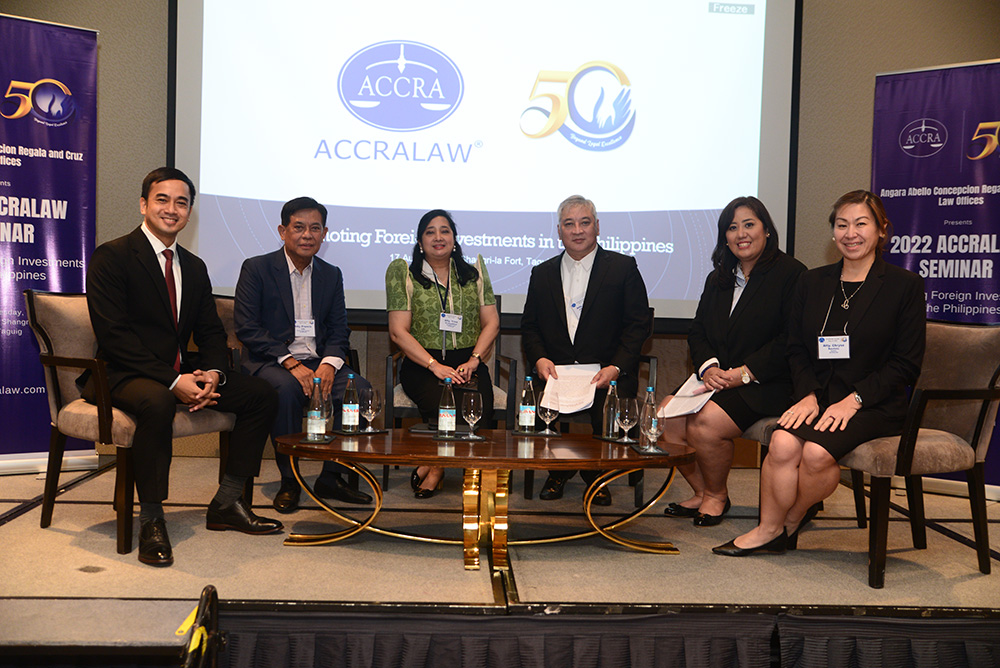 Among ACCRALAW's 50th Anniversary activities is the staging of a business and law forum last 17 August 2022 at the Narra Room, Shangri-la at the Fort. It was a forum that put on center stage the latest legal developments promoting foreign investments which were concisely explained by the Firm's lawyers led by ACCRALAW Senior Counsel Franklin M. Drilon, who was among the principal authors of the featured laws. The forum entitled, Promoting Foreign Investments in the Philippines, was attended by over 80 participants representing a wide and diverse field of clientele.
As highlighted by the Firm's Managing Partner Patricia-Ann T. Prodigalidad, while ACCRALAW's 50th Anniversary revolves around giving back to the community and extending pro bono legal services to the underprivileged, ACCRALAW nevertheless seeks to continue giving back to its clients through organizing different seminars and other activities.
Among the speakers at the forum were Senior Legal Counsel Francisco Ed. Lim, Co-Managing Partner and Senior Partner Leland R. Villadolid, Jr., Partners Chrysilla Carissa P. Bautista, Eric R. Recalde, and Melissa Angela G. Velarde. Christopher Louie D. Ocampo, among the newly-admitted Partners, hosted the event.